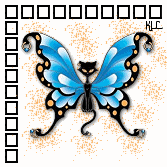 I had to pierce a little boys ears today (as soon as I got there and clocked in and did a drawer count)!
Well to make this story as short as possible!
The little boy did not want this done!
He was kicking and screaming and slobbering EVERYWHERE!
He was even gaging so bad that I thought he was going to throw up!
I know how sad is that?
Well when I asked him if he wanted daddy to come hold his hand ... mom didn't like that and I told her that if he kept doing as he was that I would not be able to pierce his ears becasue it could go in crooked, too high, too low, etc. .... so mom called in the oldest child (a girl about 13) and I thought maybe to help distract him ... but oh was so WRONG!
Mom brought her in to pin him down (more than she already was ... which I didn't think was possible) Mom had already had her legs pinning him down and her arms strapping him down!
Well the daughter held his arms!
While mom held his head and legs ... which he still was kicking the crap out of me!
So she was not doing to well!
So I did the piercing but I was so sick to my stoamch at the way mom didn't seem to care that this little 4 year old was upset and didn't want his ears pierced ... yea, he didn't get one ... he got both!
So I was so sick to my stomach that I cared more for his well being than the mom did!
All she want was his ears pierced and that was that!
Maybe I shouldn't judge how people treat their kids considering I don't have any ... but darn it!
If my child does not want their ears done then OH WELL!
Am I wrong for being this way?