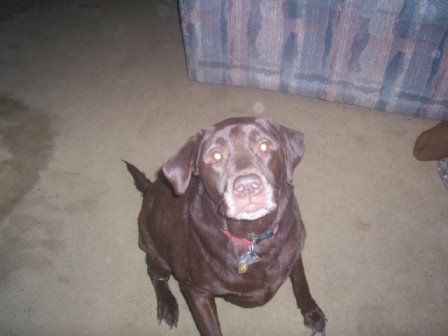 This is our Chocolate Lab, Chocolate .... I know how original .... I used to call him Chocolatte!
My Dad would get so MAD!
I had to bribe him to sit pretty with a treat dangling above my camera!
I snapped the picture right before he jumped up on me to get the treat!
We got chocolate from our neighbors 2 doors over (my dad grew up with their son, which lives 5 doors up ... and I grew up with their daughter and went out with one of their sons ... UGHHHH ... the past)! His mother was put to sleep a few years ago and his mother still lives 2 doors over!
This is our cat Midnight a.k.a. Baby Girl!
I gave her that nickname when I moved home from Florida last spring because she was the baby out of all the cats and she was so tiny .... and still is!
She would NOT sit still (or lay) so I could take a picture!
Here is the story on how we got Baby Girl:
My dad was driving along the highway and saw this KITTEN running along the shoulder!
He pulled over and brought her home! ..... my dad is a sucker animals in trouble!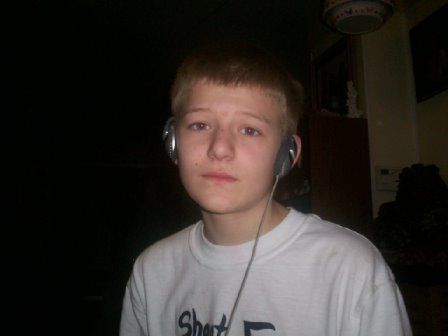 This is my brother Hunter again!
right after I posted the last entry I showed him the picture and told him he was right, I DO have a "ONLINE JOURNAL" .... he knew I did, but I kept telling him that I didn't because I was scared that he would find a way into it and read it!
Not that I lie or anything but this is my "getaway" from my family!
My spot to vent about my life!
So he saw the picture and got mad and said, "come on! Take a better picture!"
I told him that once the picture was posted to that I could not remove it! he he :)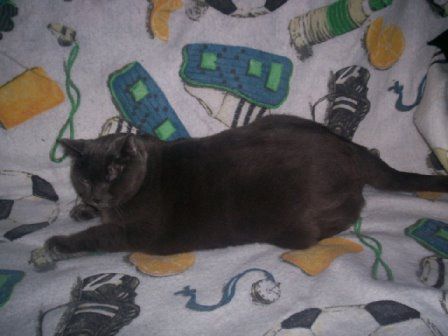 This is our cat Smokey!
He is the oldest!
He was born an outside cat and my mom wanted him so one day when mom was at work my dad crawled under our porch at our old house just to get him and my dad got stuck!
He eventually got out .... with Smokey!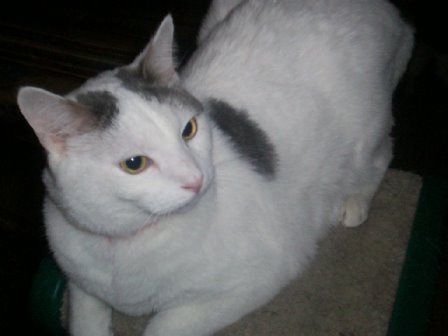 This is Snowball a.k.a. Baby!
He was given the nickname the same day he received his name!
My mom and dad would call him baby and my brother and I would call him snowball!
He spends a lot of time with me!
He is very lovable too!
We also got snowball from our neighbors (that we got Chocolate from)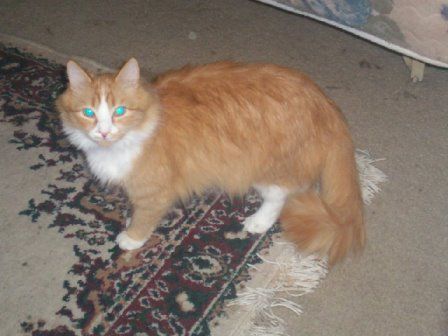 This is our cat Sunshine!
She was thrown out of a car window and hit a friend of my dad's school van windshield!
She was nearly DEAD ... some of her insides were hanging out! GROSS, I know ... sorry!
My dad brought her home and took care of her!
She will not come to any of us and my parents have had her for about 2 years!
She is scared of everyone .... can you blame her?
How could someone be so cruel?
The cats used to always start fights with her this past summer .... they eventually got sick of me yelling at them and gave up ... they would wake me up about 4 times every night!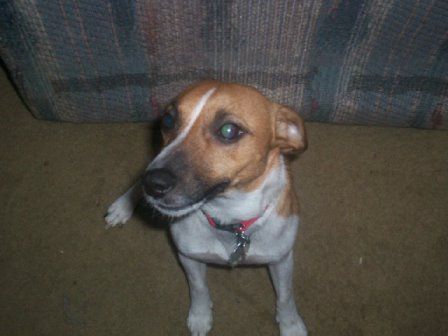 This is our Jack Russell Tabby!
My dad likes to call her Lynn sometimes .... I have no idea why!
Maybe because he is weird!