I have nothing really to update on!
My life has been pretty non-exciting!
Nothing interesting to even write about!
Lisa has been on vacation .... she only has 2 days left! Her vacation started Tuesday and she comes back Wednesday morning!
I told her I am glad that she got some peaceful time off .... but I need her back at her store because there is just too much drama going on!
Saturday night there was a feud between Claries and Piercing Pagoda!
The assistant manager for Claries was in her store saying all kinds of mean things about our store .... like our store was dirty ..... which if it's one thing you (my readers) have hopefully learned about me is that I have OCD (Obsessive Compulsive Disorder) and I clean my store ALL the time!
All the girls (from both stores) make fun of me all the time about it .... especially Tammy, Lisa, & Angela!
Now I do understand that we usually have boxes sitting in the middle of the kiosk beside of center island, but keep in mind we ONLY have a kiosk, they have an inline store, with a back room to store things in! We don't have all that space!
Now mind you the assistant manager said this to a customer, in front of a whole bunch more customers that were shopping on a Saturday night ..... which is how we found out .... one of the customers told us!
But one of Lisa's sales associates went down to claires and went to compare prices and to ask the girl if she really thought that our store was dirty. So they apparently exchanged a few words and the manager ended up calling the store and talking to Heather which is the acting assistant manager (until Tammy gets back) but is in full charge while Lisa is on vacation!
So Heather talked some real sense into her head and they ended up solving the problem professionally!
So I hope that is the end of that feud!
ummmm let's see what else has happened .....
Oh, as most of you may know when someone I knows passes away .... I try to do all sorts of things in memory of them ..... when Alicia passed away, I did numerous things, but I collect Italian charms and I had got like 2 or 3 charms in memory of her.
Well I went to the flea market today, where I got most of my charms form and the lady had a new angel one.
So I got that one in memory of Pam!
I plan on getting "In memory of Alicia Joy Strauss" with her living dates on them .... and I want one just like that with Pam's dates on it!
I had also got an airbrush t-shirt at the fair last year with "R.I.P. Alicia Joy Strauss" with all the colors of the rainbow behind the words and an angel on the back of the shirt!
Well I had used some sort of generic fabric cleaner (I don't even remember which) and it stained my shirt!
So this year I plan to get it re-made and getting one with Pam on it and I was thinking for hers, having a cat on the front with her name, and on the back having some flowers with her living dates!
What do you guys/girls think?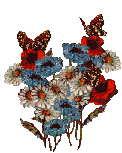 I am really sorry i have not been to any journals this week .... I will try to keep up this week, although nothing exciting happened, it was still a crazy week here in my life happenings!
I really think that is everything that I have to update everyone on.
Have a great Sunday (what's left of it)!