Here is the pictures of the new cat .....
Now I have NO idea how to spell his name so I am just going to nickname him ..... mr. lovable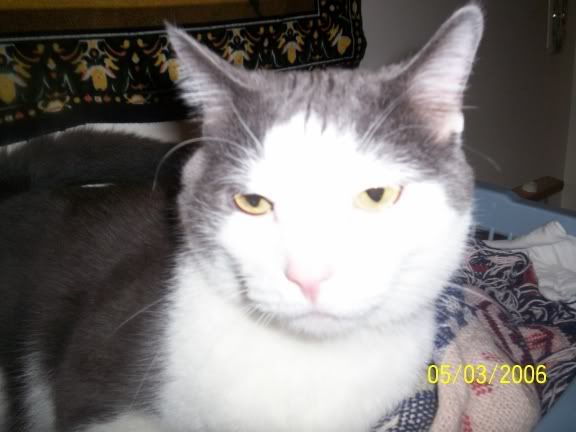 His name is an indian name .... something like taupeapee .... I have no idea ..... I could be VERY FAR off from the correct spelling but hey I tried .... he came from my dad's shop .... my dad works for a tow truck company and the owner said that the ONLY person that could have him was my dad, so VIOLA! Here he is .... I think my dad said he is like somewhere between 5-7 years old!
He is sooooooooooo lovable!
Look at how cute he is too!
For those of you that remember when I did the photo entry with ALL the other pets I have here .... and if you are counting ...... yes this makes it
8 cats and 2 dogs!
I know how crazy is that?
And we don't even live on a farm .... just a city house w/3 floors (and basement ... but none of the pets are allowed down there)!
I told my parents this is getting out of control!
But hey it's their house, and I can't tell them what to do!
But now my dad wants another dog!
I think he is smokin' something! SERIOUSLY!
Now the only picture I still owe you all is one of Mark and I!
Which this one I'm thinking maybe a little harder then the rest!
But he asked me to go to his football game again on sunday ...
so maybe I'll take some pictures of him there ... I dunno yet!
I really want one of us together, but I dunno!
It will definitely be hard to do since I NEVER see him anymore ....
first of all because the past week and 1/2 before he left for his new store we worked opposite schedules, and now he has to drive 45 mins. just to get to work (one way) so now I know I'll NEVER see him! :(
We were supposed to do lunch yesterday .... but ..... he was to call me when he woke up, which he didn't ... I texted him around 4:30pm and he said he was looking for his roomates dog. (Which they didn't find) :(
Then he didn't call me back until about 9 and I was laying down then ... and he had to work open to close today .... he had to get up at 6:30am and he said that he was going to call me when he had to get up and I told him not to ... but I told him I would talk to him if he called ... he said he was going to call but didn't!
So I don't know!
I miss him terribly! :(
He has been back to himself since we had our talk saturday night .... I'm back to feeling like I want to melt when talking to him!