So I have to pimp my girl out ....
Roxy Mama asked us to finish the sentence ...
Love is ....
So of course I had to .....
and here is my beautiful square!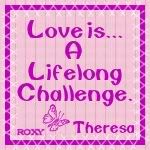 you have to stop by her journal and look at the quilt ... it is absolutley beautiful!
I can not wait for her to do the next one! :)
she worked hard on it and it turned out really well!